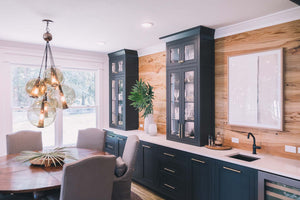 We strive to make each home a thoughtful reflection of our client through color, texture, and pattern.  Through accountability, transparency, and open communication we are committed to meeting each clients' expectations and building long-term relationships.
FULL SERVICE DESIGN
New Build or Renovation
For clients with projects looking to hire NEAT to design and execute their job from conception of build or renovation to completion. Full-service design best suited for furnishing and/or construction projects where NEAT manages all aspects of the design and/or renovation process. NEAT provides design and project management services through all phases of the project.
CONSULTATION
Shoppe NEAT
Instead of second guessing yourself – let us help you. By doing shopping alongside you we will dedicate time to identify your style, goals and achieve a unique yet cohesive look for your home.  Your Shoppe NEAT Consultant will recommend items from our curated collection to provide the finishing touches for your home.  Come visit us to get started.  Please email or call to ask about products you find online.
"
Let us turn your house into your home.