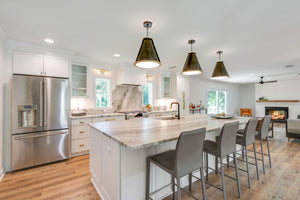 "
The Neat Interiors team is extremely talented and were an absolute pleasure to work with on my home remodel. They really took the time to understand my style and family's needs to design a home that works perfectly for us. Darica and Jennifer's attention to detail was top notch and they designed a home that is equally beautiful and functional and did so within my budget. I can't say enough good things about this professional and personable team!
- Beth Nunnally
"
My husband and I had been paralyzed from moving forward with redesigning our kitchen, bathrooms and flooring in our house since we moved in six years ago.  Every inch of our house needed to be upgraded but we had no idea where to begin, nor did we have any confidence in our ability to design and manage the entire project.  Thank goodness for Darica and Jenn.  Their full-service approach helped us visualize what was possible, develop a budget, identify what work needed to be done and manage everything from contractors to hardware to appliances and curtains.  We could not have done this without them, and our home looks less like college kids live here and has become a reflection of who we really are: a busy family that prioritizes function and efficiency.  You will not be sad, for having hired experts to guide you through what can sometimes be an overwhelming process.  And there are no better experts than the ladies at NEAT.
- Rachel Cone
"
In addition to the extraordinary design talent for which they're well known, Darica and Jenn bring efficiency, execution and an elevated aesthetic to every project they take on. At the outset, we gave them very general direction and they were able to precisely interpret our style and come back with unique, high quality options that made our new house a home. Our project was a big one and they were on time and on budget in the midst of COVID - when it was essentially impossible to stay on time and on budget. In addition to being top tier design professionals, they are wonderful people and now friends and our entire experience with the NEAT design team could not have been better. 10 out of 10 recommend.
- Ben & Eileen Stuart